CRUSADES
Vincent Paul Healing Crusades are City Wide & Nation Wide Healing Crusades often conducted and organized by Vincent Paul Ministries Int'l. in various Cities & Nations of the World, in conjunction with local Pastors & Churches, where the Gospel is Preached with confirmation of the Word resulting in Salvation of Souls, Healings, Deliverance, Miracles, Signs & Wonders.

We need your Financial support to help us Plan & execute both the Upcoming & Subsequent Crusades, and to meet the Crusade budgets. Your Partnership with us & Financial Support will be highly appreciated and will help reach Souls for Christ.To make a Donation, Please click "Donations" CLICK HERE; & when there, Click on the Crusades/ Conferences Donation Icon. Thank You & God Bless for Your anticipated Support.

WATCH DR. PAUL N. VINCENT'S NEW TV/ VIDEO PROMO:

LAHORE, PAKISTAN HEALING CRUSADE: FOR A DETAILED "MISSIONS REPORTS" (WITH VIDEOS & PICS); CLICK ON THIS IMAGE BELOW:

PAKISTAN HEALING CRUSADE MESSAGE:
"EVERYTHING IS READY!"

TO READ THE MISSIONS REPORT OF DR. PAUL N. VINCENT'S RECENT NIGERIA HOME-COMING & MISSIONS TRIP;
CLICK ON THIS IMAGE!


TO READ THE FULL REPORT OF OUR RECENT MISSION TO INDIA
CLICK ON THIS IMAGE!

TO READ THE FULL REPORT OF OUR LONDON HEALING CRUSADE
CLICK ON THIS IMAGE!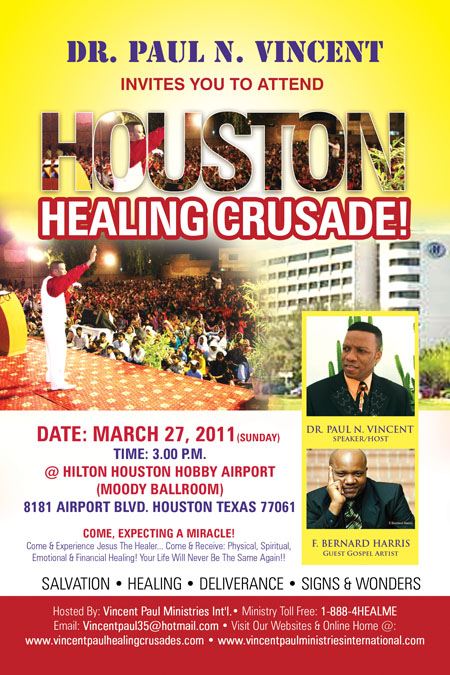 WATCH THE "TCT 'REJOICE'" 'DON'T BE DISCOURAGED' TV INTERVIEW WITH PROLIFIC AUTHOR, DR. PAUL VINCENT!