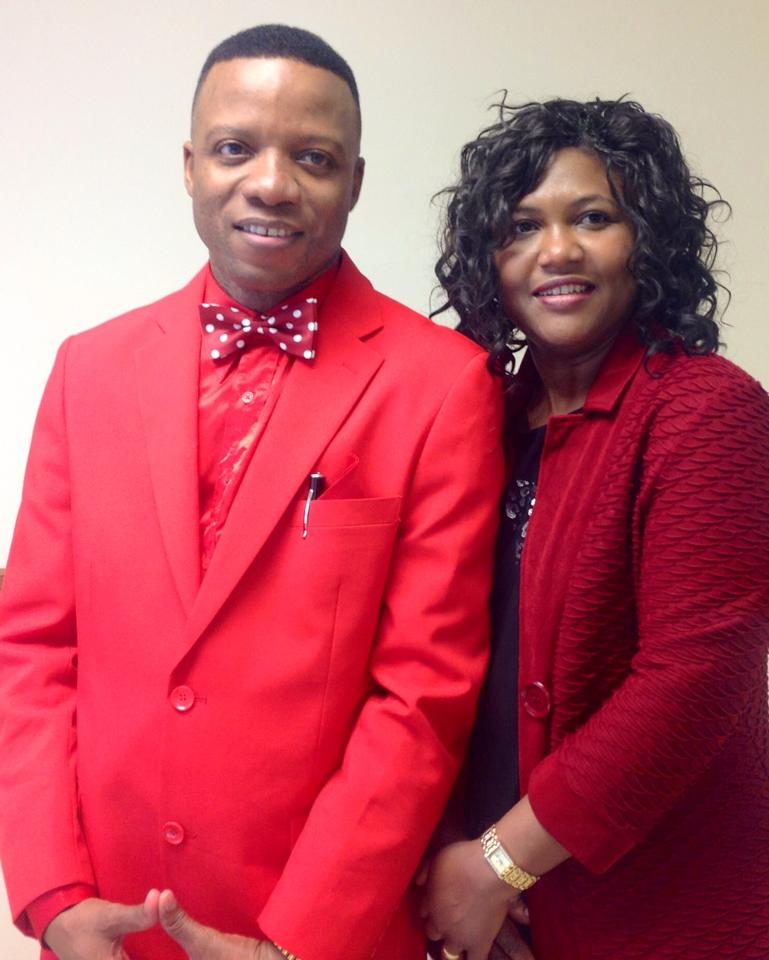 Dr. Vincent, Paul Nduoma is a Dynamic, Anointed, Multi-Gifted, Motivational & World-Class Preacher, Teacher, Healing Evangelist, Chaplain, Prolific Author, Publisher & Entrepreneur. He is the President of Vincent Paul Ministries Int'l. - a Non-Profit Organization & a dynamic multifaceted ministry with the mandate to liberate those oppressed by the devil through the Preaching of the Gospel! He is spearheading a project aimed at demonstrating God's Love to Africa, Asia & other hurting parts of the world dubbed, the Persistence Works Charity Project - & also the Persistence Works Prison Book Project, which distributes his Books to Prisons nationwide!
He is also the President of Kingdom Power Ministries In'l. [KPMI is a member of National Association of Evangelicals (& NAE is the largest Evangelical Body in the U.S. representing over 45,000 Churches & Ministries with a total of over 30 million involved in their ministries); & the National Association of Evangelicals Chaplain Commission (NAECC - the Endorsing Agency for the Dept. of Defense & Pentagon that Endorses his Military Chaplaincy Ministry)!
A CAPTAIN in the U.S. Army and a graduate of the U.S. Army Chaplain Center & School, Fort Jackson, South Carolina; where he completed the Chaplain Basic Officer Leader Course. He's also had Active Duty services at Fort Drum, in Upstate New York; & at Fort Bliss, Texas! He has in addition, received training & Internship in Hospital Chaplaincy and Clinical Pastoral Education (CPE) at the New York University Medical Center, New York!
He is the President/CEO of Vincent Paul Group, Inc. - a budding conglomerate and a multimedia Communications, Publishing & Tourism Group of Companies based in Texas & with prospective offices in Nigeria. He is the author of 'Persistence Works! Discovering How To Persist Unto Your Miracle' & the prolific author of the Persistence Works! Series – with almost 20 Books now published! He is also the host of 'The Persistence Works Show' - his ministry's TV Program! He also publishes "Persistence Works E-Newsletter" sent twice a month to over 25,000 people in over 150 countries! He has also authored the Tracts: 'How To Get To Heaven From New York City!' & 'How To Get To Heaven From El Paso, Texas!'
He had his Theological training from UMCA Theological College, Ilorin, Nigeria and holds a B.A. [Religious Studies] degree from The University of Ibadan, Nigeria; a Master of Arts - M.A. In Religion [Leadership] "& a Master of Divinity [M.Div.] degrees both from Liberty University, Lynchburg, Virginia! He's also had training in the Working Knowledge of Entrepreneurship from Harvard Business School of Harvard University; & has been awarded an Honorary Doctor of Letters degree from Westgate University - for his prolific writings. A Member of various Ministerial Associations and a graduate of Morris Cerullo School of Ministry. He has held various Leadership positions including being a Director in a Full Gospel Business Men's Fellowship Int'l. (FGBMFI) chapter for many years.
Since his maiden book was released at the National Press Club, in Washington D.C., he has appeared as a Guest on various Radio & Television shows, including: 'Turning Point' on Christian Broadcasting Network CBN (also seen on: TBN Europe, Love World & AIT); NTA Network - Africa's largest TV Network; KCHF TV; BEN TV London; 'The Harvest Show' on World Harvest Television; TCT TV Network; BronxNet, BCA TV Umuahia & WWJC Radio, among other Radio & TV shows. He's been featured in the "NAE Insight Magazine" & also in "The Centurion" NAE Chaplain Commission's official Newsletter. He has also had full page Ad listings in Charisma Magazine; & been featured/ had Write Up in Radio-TV Interview Report – a Magazine that goes to over 5,000 Radio/ TV Producers in the U.S. He has also been featured in New York Daily News (in the Big Town Big Dreams page of the paper) – as one of the Immigrant New Yorkers who made the city what it is.
A choice speaker in conferences, conventions, crusades, camp meetings, & churches. He is on the cutting edge of the move of God as the Gospel now takes him around the Globe. He is happily married to Edith - a Nurse, RN by Profession & a Partner in ministry who also holds a B.A. degree in Christian Counseling from Omega Bible Institute & Seminary & now completing a BSN degree in Nursing from Grand Canyon University. Dr. Paul & his wife Edith are currently based in Texas, U.S.A.


Living A Dream - Literally
By HEATHER ROBINSON
Tuesday, June 12th 2007, 4:00 AM

Rev. Paul Vincent's dreams of a new life in New York have become a reality.
Big Town, Big Dreams
Stories about immigrant New Yorkers who make this town the great place it is
One night in 1995, the Rev. Paul Vincent dreamed his future. Then an undergraduate at the University of Ibadan in Nigeria, he saw himself arriving at Kennedy Airport and meeting a woman he had not seen in some time - a childhood friend named Edith.
In the dream, she looked settled, as if she had been in the U.S. for years. Next he saw them dressing in the same room for an event - as if they were husband and wife.
When he awoke, he dismissed the dream. Little did he know it would come to pass and coalesce some of his most important goals: a happy marriage, self-publishing and the opportunity to work as a spiritual counselor and to raise money for Africa's poor.
"I believe dreams are one of the ways God leads us," says Vincent, 35, of Byron Ave. in the Bronx.


Vincent, the founding pastor of Kingdom Power Chapel, a Bronx-based Pentecostal ministry, is also the author of "Persistence Works," a spiritual self-help book.
Last year, he also founded the Africa Charity Project (www.africacharityproject.com ), a nonprofit organization dedicated to providing safe drinking water, medicine, business loans and other resources to impoverished African villages, and to supporting religious and business education. A slender man with a broad smile, his voice was boyishly exuberant on a recent afternoon in the couple's small, tidy living room as he spoke of "spiritual revelations" that led him to his ministry, his charitable work, and his beloved wife, Edith. After earning his B.A. in theology in 1996, Vincent worked as a Pentecostal pastor in Aba, Abia State, Nigeria."He opened his home to take people in," says Bishop Goddy Okafor, chairman of the Pentecostal Church in Abia State, Nigeria, who was a colleague. "Paul was [especially] dedicated; he sacrificed." "I felt God was putting it to me to be instrumental," Vincent says, "in helping people not only by giving them fish, but teaching them to fish," or to become self-sufficient. During those years, he wrote Sunday sermons as a regular columnist for the Ambassador newspaper, a state publication. He also wrote "Persistence Works" - but had difficulty publishing it.


"I had to go back and read my own book to encourage myself," he says with a laugh.
Undeterred, he continued writing. Soon, he had written more than two dozen spiritual, motivational books.


He began researching the possibility of self-publishing with a Christian publishing company in the U.S.Around this time, he began dreaming of his childhood friend Edith, whom he knew to be studying nursing in another part of Nigeria. In his dreams, they were married and living in New York. "When I woke up, I would think, 'How can this happen?'" he recalls. "I knew she had no plans to go to the U.S. I was living in the southwest [of Nigeria], she was in the southeast. It's like being in Dallas and New York."
Not to mention that, because he and Edith had grown up together, he thought of her as a "Christian" - or platonic - "friend," he says. So he dismissed the dreams.
In 2002, over six years later, he had a "followup" dream. "I saw her father [in the dream]. He was coming out of church and he said, 'Many suitors are coming [for Edith]. Over 80 of them! So what are you waiting for?' I said, 'But we have not spoken in many years. I don't even know how to reach her.' Before he could give the address, I woke up!"
During the next six months, he had "another four or five" of these dreams.
"I was thinking, 'Is this God's way of saying she is rightfully my wife?'"
I n December 2002, when he ran into Edith's younger sister, he asked about Edith. She told him Edith was living in the U.S. She had married and, tragically, lost her husband to a heart attack.


When he called Edith, who was living and working as a nurse in the Bronx, she was surprised, but not shocked. Incredibly, she had just had a vivid dream - about him.
In it, she saw a scene from their childhood, 20 years earlier. When they were in junior high school, they had performed together in a religious play, re-creating a wedding. Paul had played the groom, and a girl named Regina the bride.
"In the dream, I saw a photograph with me and him wearing wedding clothes," says Edith, 37, with a shy smile. "I thought, 'But it wasn't me all those years ago. It was him and Regina.'"
Within a few months, Vincent suggested they marry. But Edith wasn't ready to consider it. He persisted for an entire year, and little by little, the idea felt right to both of them.
When Edith came to pick him up at the airport, Vincent says, the scene was a real-life re-creation of his dream.
Since then, he has published his book - dedicated to Edith - founded the church and appeared on several Christian television shows, including "The Harvest Show" on World Harvest TV (Channel 321 on DirecTV) in January. His next book, "Don't Be Discouraged," will be published by Xulon Press
(www.xulonpress.com) in August, under the pen name Vincent N. Paul.
He emphasizes persistence when counseling those in need.
"In my last semester [of nursing school] I was pregnant," says Ifeyinwa Francisca Iweha, 27, of Baltimore, a registered nurse who credits Vincent with inspiring her to obtain her degree. "Sometimes I thought I'd fail.
"I called him and he would pray with me and tell me to persist, and don't be discouraged. I passed ... and it was a wonderful blessing."