TO ORDER FOR ANY OF THE PERSISTENCE WORKS SERIES
CLICK ON THE BOOK COVER!
(All Titles Are Available As E-Books on: Amazon Kindle, Apple iBook & B&N Nook!) Titles Are Also Available as Audio Books on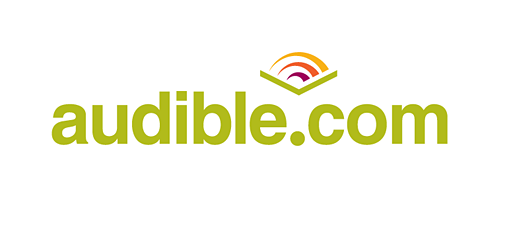 ,

& on

!
No More Devotional Series

The Communication Of Faith

Discovering Your Destiny!

The Great Commission

Run To The Battle!

The Presence Of God!

The Plan of Salvation

Faith Deflators!

Don't Be Discouraged!

Your Vision & What
To Do WIth It

Faulty Foundations!

Persistence Works!

The Second Coming of Man!


Fountain Quotes Of Vincent N. Paul

The Second Coming of Man!

WATCH OUR BOOKS' TV PROMO:
WATCH PERSISTENCE WORKS VIDEO/ DVD PRESENTATION
WATCH BISHOP PAUL VINCENT'S LATEST TV INTERVIEW
ON NTA 2 CH 5 LAGOS
QR CODE ORDERING WITH YOUR iPHONE!
You Can Also Order For Any/ All Our Persistence Works Book Series - With One Click & In One Place! By Simply Scaning Or Download The QR Code With Your iPhone Or Other Smart Phone Or Device To Load It; Then Click On The Books To Purchase!

PUBLISHING COMPANY INFO
Vincent Paul Publishing, is the Publishing Imprint of Vincent Paul Group, Inc.- a U.S. based Multimedia/ General Corporation - It is the Publisher of VPP Books (Books Written and Published by Dr. Vincent N. Paul - a Prolific Author/ Publisher & Entrepreneur).

VPP Books are Motivational/ Inspirational Titles that Edifies, Encourages, Enlightens, and Educates. It deals with various areas/ topics of human living, including Persistence, Discouragement, Encouragement, Spiritual Wafare, Faith & Self Help titles, among others. These are being Published under the "PERSISTENCE WORKS! SERIES; - a 'Series of 60 Books being Released: 2 Books Annually!

VPP Outsources All Printing, Mailing, Warehousing and Fulfillment. It has a Publishing Partnership with Xulon Press, Inc. - a leading Christian Print On Demand Publishing Company based in Florida - through whom VPP Books are being Printed & Distributed in Bookstores Nationwide. Retailers may Order Persistence Works! Title(s) through Ingram Book Company &/ Or Spring Arbor Book Distributors - which Reaches Over 25,000 Bookstores Nationwide - in the U.S. VPP Books are also Printed & Distributed in U.K, Europe, Australia & Africa through: Lightning Source U.K. Ltd. - the Leader in Demand-Driven Book Manufacturing and Distribution Solutions to the Publishing Industry, with Production Facilities in both U.S. & U.K; Printing Over 1 Million Books Monthly - Whereas the VPP undertakes the Distribution in Nigeria, through her Office in Lagos, Nigeria.

Worldwide/ Online Order & Distribution is available @ www.amazon.com (U.S.) www.amazon.co.uk (United Kingdom); www.amazon.de (Germany); www.amazon.ca (Canada); www.amazon.fr (France); www.amazon.co.jp (Japan); www.barnesandnoble.com; www.borders.com; www.target.com; www.parable.com; www.booksamillion.com; www.xulonpress.com; & www.persistencework.com; Etc. Orders Can also be made Toll Free, By Calling: 1-866-909-2665.
For Info on How To Order For Any of The Persistence Works! Products above, Visit our Online Store Page Or Click Here: http://www.vincentpaulorg.com/home/onlinestore .

For Info on How To Order For Any of The Persistence Works! Products above, Visit our Online Store Page Or Click Here: http://www.vincentpaulorg.com/home/onlinestore


TO READ THE REPORT OF OUR RECENT NIGERIA 2ND HOME-COMING & 6 BOOKS LAUNCH EVENT!
CLICK HERE: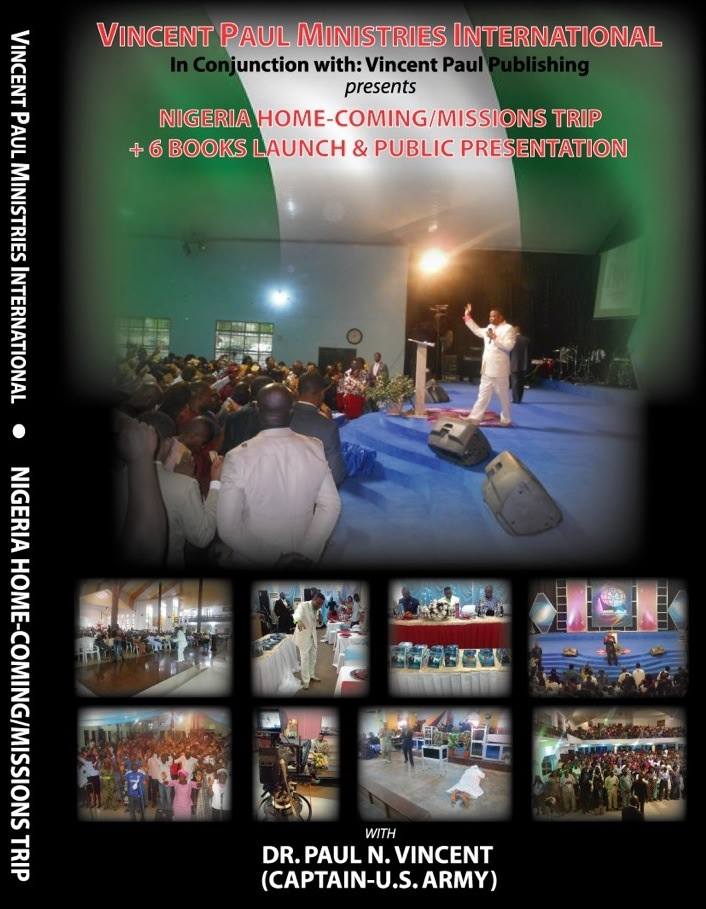 WATCH DR. PAUL N. VINCENT'S 2ND TV INTERVIEW ON NTA NETWORK'S A.M. EXPRESS PROGRAM:
PERSISTENCE WORKS BOOK ADS THAT'S BEEN FEATURED IN: CHARISMA, CHRISTIAN RETAILING & CHRISTIAN BOOKSELLERS' ASSOCIATION MAGAZINES!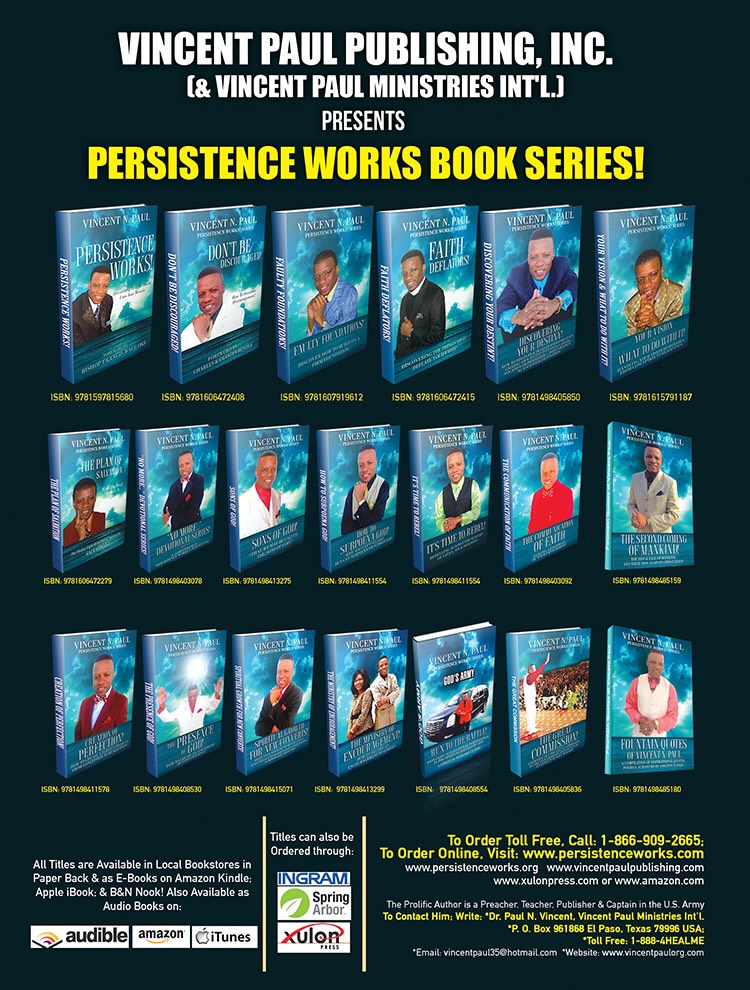 PERSISTENCE WORKS SERIES PRODUCTS
Faith Deflators T-Shirt

Persistence Works T-Shirt

Your Visions T-Shirt

The Plan Of Salvation Hat

Persistence Works Hat

Don't Be Discouraged Hat
WATCH THE "CBN TURNING POINT" 'PERSISTENCE WORKS!' TV INTERVIEW WITH PROLIFIC AUTHOR, DR. PAUL VINCENT!