MIRACLE NIGHT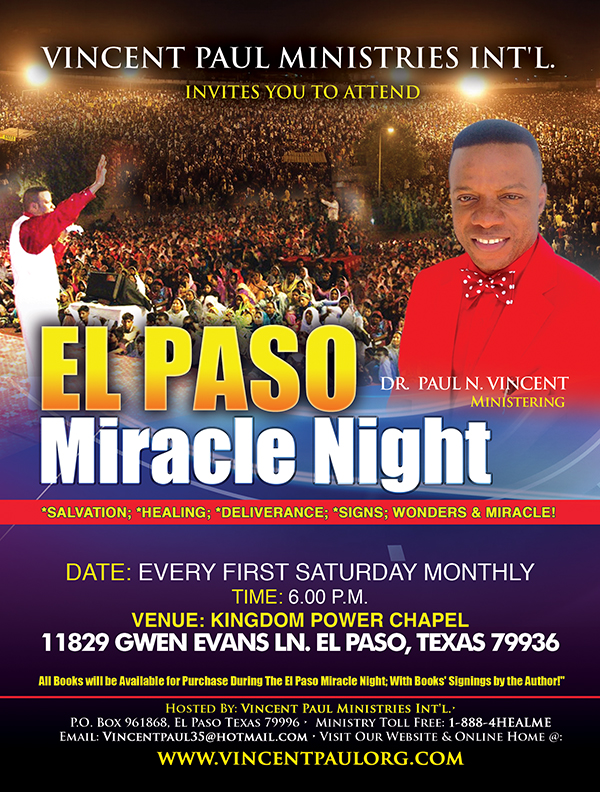 WATCH OUR EL PASO MIRACLE NIGHT VIDEO:
WATCH OUR CHURCH & EL PASO MIRACLE NIGHT TV PROMO:
WATCH OUR BOOKS' TV PROMO:
"The Miracle Night - is a Supernatural Program The Lord led Dr. Paul N. Vincent to Organize; which usually holds once a Month in Cities around the world & Organized by: Vincent Paul Ministries Int'l. The Program is an Evangelistic, Healing, Miracle & Power-Packed Meeting Where The Presence of God so Manifests That Miracles Becomes Common Place; Resulting in Salvation, Healing, Deliverance, Revival, Signs, Wonders & Miracles! People 'll Come From Around The World To Attend The Meetings & Receive Their Miracles From God! The Powerful Praise & Worship Experiences Led by Anointed Gospel Artists/ Worship Teams; & The Preaching of The Word Under The Powerful Anointing of The Holy Spirit & Breakthrough Prayers - Produces the Supernatural in These Meetings! You Are Specially Invited To Plan To Attend These Miracle Night Programs!"
MAKE A DONATION TO HELP SPONSOR THESE MEETINGS!
Help us Spread the Gospel through this medium by making a Donation to our Ministry! All Donations are Tax-Deductible! To make an Online Donation, Simply Click Here Or Write us a Check & make it Payable to: Vincent Paul Ministries Int'l.

WATCH THE CBN TURNING POINT PERSISTENCE WORKS TV INTERVIEW WITH PROLIFIC AUTHOR & BROADCASTER, DR. PAUL VINCENT: